Re-model of an old neglected estate pond with a waterfall/stream to enhance the property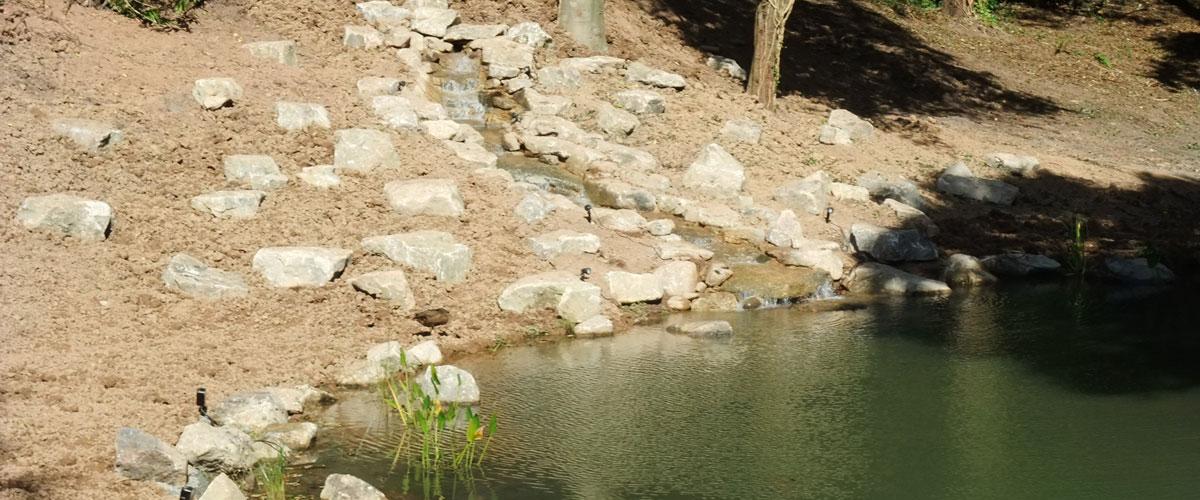 Dartmoor Pond Services were asked to re-model an old neglected estate pond and design/construct a large 'natural' stream/waterfall to enhance the property.
The pond ( 20m x 10m x 2m deep ) was drained and cleared out. The banks were contoured and planting shelves of various depths created. The surrounds were landscaped and years of undergrowth cleared under the specimen trees to allow sunlight in and reveal the long hidden beautiful views over the estate. 60 tonne of granite boulders were brought in, sited in and around the pond to provide a natural finish, remaining granite was used to form the water feature.
3 Oase pumps were installed to feed the stream via Oase Screenmatic 140,000 filter units. We sited the filters behind the head of the stream to be in-obtrusive but accessible for periodic maintenance.
Rainwater from the house was directed to the stream and a snorkel over-flow installed in the pond.
The pond was stocked with a wide selection of lilies and waterplants from www.devonpondplants
The cleared area below the trees and around the pond was seeded with native wildflowers.
Over to mother nature to complete the transformation over the coming year.